Introduction
We put together a quick list of some of the bestselling electric golf carts Evolution Electric Vehicles has to offer; some carts are for the golf course, or carts for personal daily drivers and heavy-duty carts for commercial use but all of them are impressive in capability and super comfortable.
After a brief look at some of the best cart features, sizes and performance capacities, you'll know enough to choose your own new, evolution electric vehicle.

#1 GOLF CART Line–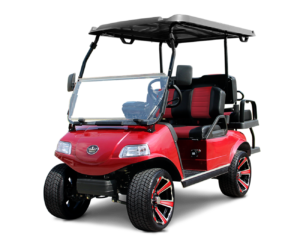 Anytime is Tee time riding "The Classic 4 PLUS"!
With STANDARD Luxury 2 tone seats, seating up to 4 people, Lithium Battery and a speed of 0-25 mph in 5 seconds, it earns the slogan of "The quickest and most capable electric vehicle in history".
Click to see more: http://evolutionelectricvehicle.com/product-classic-4-plus/
#2 PERSONAL CARTS Line-


Take your adventure off-road with "The Forrester 4 PLUS"!
It comes equipped with a brush guard and has 17 hours of range on a single charge.
The knobby tires validate the strength of the sturdy frame and it even has a street-legal option.
A reliable vehicle for individual endeavors.
Click to see more: http://evolutionelectricvehicle.com/product-forester-4-plus/
#3 COMMERCIAL CARTS Line-
The top spot for number three is a TIE between the hardest working Turfman line and the toughest working Carrier line of carts.


First, you can trust "The Turfman 800 PLUS" for all-day, heavy-duty use. It comes lifted, with special tires for minimal shock impact and a Double A-arm coil-over suspension for a smooth quality ride feel. Not only technically strong it comes with Luxury seats and a luxury steering wheel to boot!
Click to see more of the Turfman: http://evolutionelectricvehicle.com/product-turfman-800/

Next up (for #4), is "The Carrier 8 PLUS". Quickly load Family, Friends or BOTH. With up to 8 seats there's plenty of room to throw the bags in the back on the way back from an event, business meeting or to the resort. Included is a 9" touch screen entertainment center with a backup camera.
Click to see more of the Carrier 8 PLUS: http://evolutionelectricvehicle.com/product-carrier-8-plus/

Conclusion
As Golf carts are getting more popular, our aim is to help you to find some of the best electric golf carts on the market to fit you. This was a brief overview of some of the best golf carts with the highest value but enough to gain some valuable insight into what to look for in a golf cart worth buying.
Some of these carts come with features like custom PPG paint, stretched limousines style bodies and more! Evolution Electric Vehicles are an investment you will have for a lifetime, so be sure to pick a color that you like!
Click to find an Evolution Electric Vehicle dealer near you: http://evolutionelectricvehicle.com/dealer-locator/