MSRP excludes shipping, delivery, taxes, registration, other options, and dealer charges and fees. Dealer sets actual price. May vary from MSRP.
*Image is for illustration purposes only.
Please ask your local dealer about available options and feautures.
D3 stands as our timeless classic, widely acclaimed by golfers since its market debut. Many select it for daily commuting, making it a versatile choice for hotel resorts, schools, real estate properties, and residential areas.
Designed for utmost convenience and comfort, D3 features a unique four-seat arrangement, with two seats facing forward and two oriented rearward. Beyond its seating, the cart boasts an array of amenities: from entertainment options to ample storage. Features like a built-in removable refrigerator, tiltable laminated windshield, and LED lighting enhance the experience, while adjustable seats ensure comfort. Additionally, a rear handrail provides added safety for those seated at the back.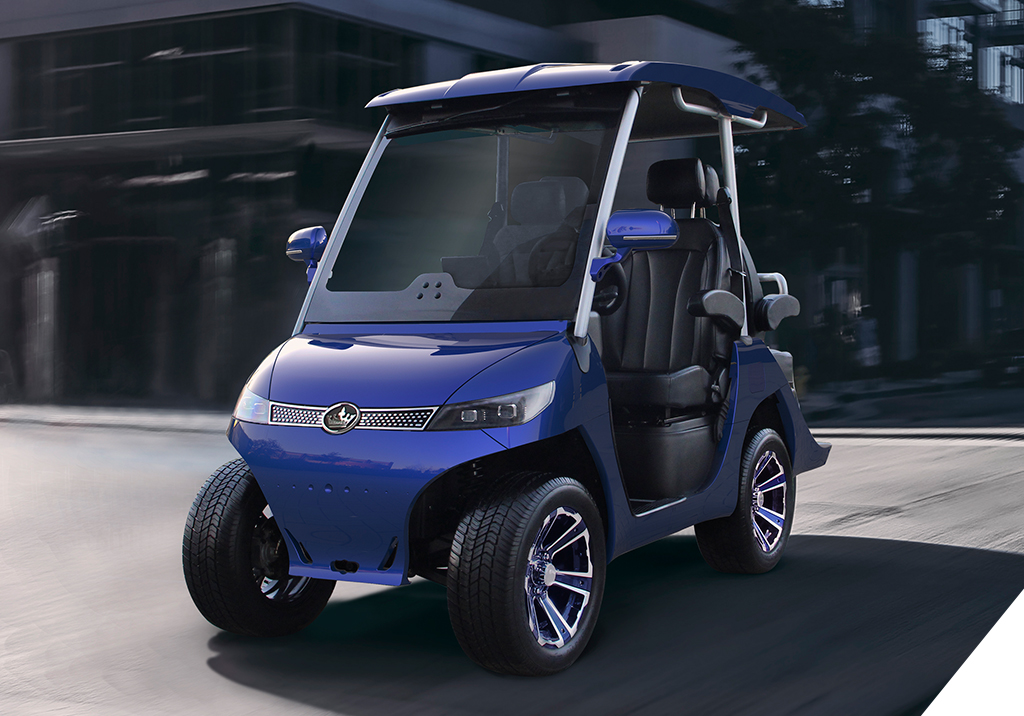 Experience Luxury On-the-Go
Step into the world of premium transportation with D3, your ideal partner for daily excursions and adventures. Tailored as a luxurious personal buggy, it's designed for those who cherish solitude and elegance. Revel in the comfort it offers and let each journey be an indulgent experience. Whether it's a casual hangout or a scenic drive, D3 ensures you do it in style.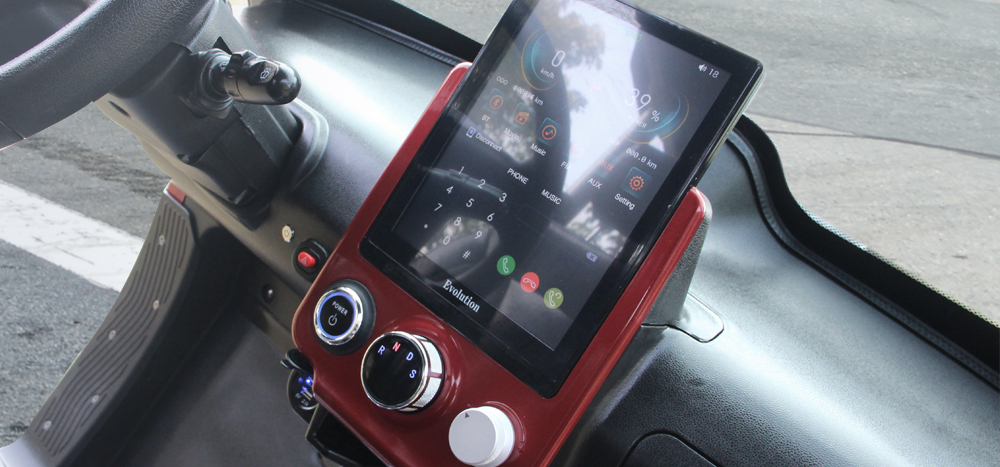 9.7'' TOUCHSCREEN WITH BACK-UP CAMERA
Experience the luxury of our 9.7-inch touchscreen, perfectly integrated with a clear back-up camera. Navigate seamlessly with features including radio, music, speedometer, and Bluetooth. Stay informed with gear and light indicators, and monitor your journey's efficiency with the Battery State of Charge (SoC).
Additional storage space under the hood. Pull the trunk unlock latch under the steering wheel (dashboard) to access the compartment.
It eliminates the need for a power steering pump, hoses, hydraulic fluids, and a drive belt and pulley on the engine. As a result, electric power steering is energy efficient and environmentally compatible while offering extras like simplified tuning, packaging flexibility and engine-off steering assist. Electric power steering also provides an advantage in regards to physical weight, too, as their far more simple setups reduce the weight over the front axle.
FOUR-WHEEL HYDRAULIC PISTON DISC BRAKE
> Less Weight                   
> More Agile and Reliable
> Shorter Stopping Distance With 4 Wheel Disc Brake   
> Lower Maintenance Cost
BUILT-IN REMOVABLE REFRIGERATOR
Our top-quality and convenient built-in removable refrigerator is an excellent choice for our cart and offers flexibility for vehicle owners.
TILTABLE LAMINATED WINDSHIELD
With a rotary switch, the tilt angle of the laminated windshield is easy to be adjusted. Then just enjoy the cool breeze skating through tilted windshield.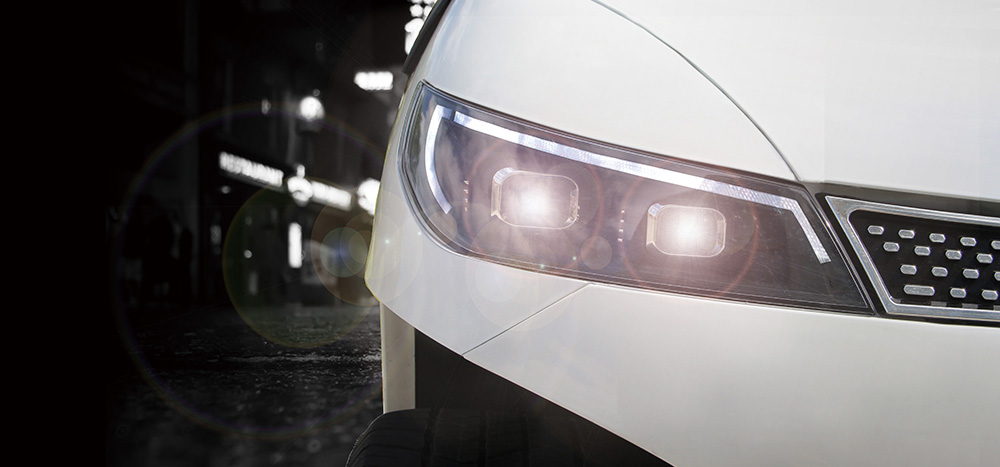 Light Up the Darkness! Eco-Friendly. Cost-efficient. Long Lasting.
Hassle-free.

Our personal transportation vehicles come standard with LED lights: high beams, low beams, daytime running lights, turn signals and brake lights for a brighter ride. Our lights are more powerful with less battery drain, delivering a 2-3 times wider field of vision compared to our competitors, allowing you to enjoy the ride worry-free, even after the sun goes down.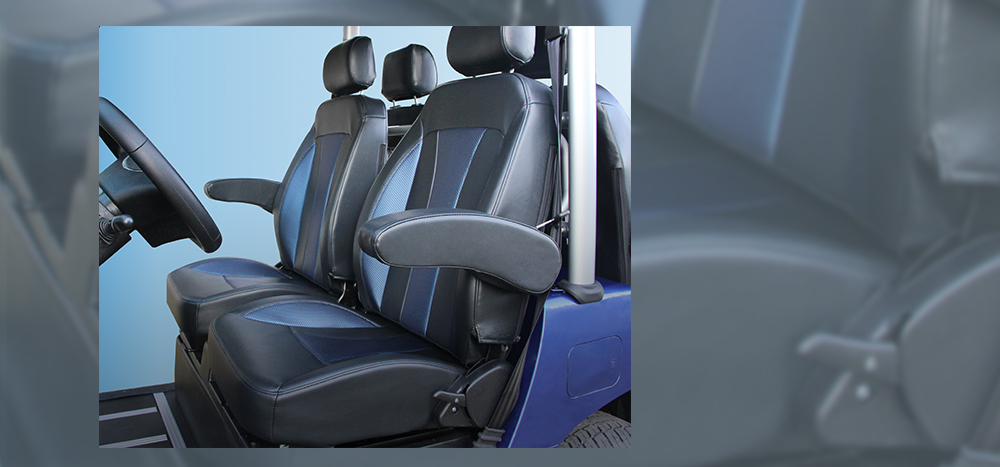 SEAT SLIDE BAR: Move the seats forward or backward.
BACKREST TILT: Adjust the tilt angle of the backrest.
ROTATABLE ARMREST: It can rotate 90 degrees and provide an ergonomic support for your cantilever elbows.
STANDARD SAFETY BELT: Standard with three-point safety belts in the front seats and two-point safety belts in the rear seats.
I love my Evolution. It's beautiful and gets me to where I want to go without any problems.
These carts last forever. Safe and sturdy with enough battery power to drive all day. The Staff were able to answer all my questions regarding a new roof replacement. Thanks Evolution Team!
119″×60″ (rearview mirror)×77″
● 48V 110AH Lithium Battery
● 6.3KW Motor With EM Brake
● 400 A, AC Controller
● 25A On-board Charger
● Top Speed ≥40km/h(25mph)
● Automotive, Multifunctional Steering Wheel
● Sliding & Adjustable Seats
● Automotive Style Dash With Room For More Accessories
● Four Wheel Hydraulic Piston Disc Brake
● Power Steering
● Large Storage Compartment in Front Trunk
● All LED Lighting
● Built-In Removable Refrigerator
● Windshield Wipers And Spray Nozzles
● 14" Alloy Wheel Rims With Color Matching Inserts,225/50R14 Tires
● USB Charging Port
● 9.7'' Touchscreen With Back-up Camera
(Radio, Music, Speedometer, Bluetooth, Video, Aux, phone Calls, Gear Indicator, Light Indicators, Battery Soc.,etc)
EVOLUTION PRODUCT LINE-D3 SERIES
Brochures For Evolution Carts-Click "Product Brochures" For Downloading The Brochures  For Your Cart !
EVOLUTION PRODUCT LINE-D3
Brochures For Evolution Carts-Click "Product Brochures" For Downloading The Brochures  For Your Cart !