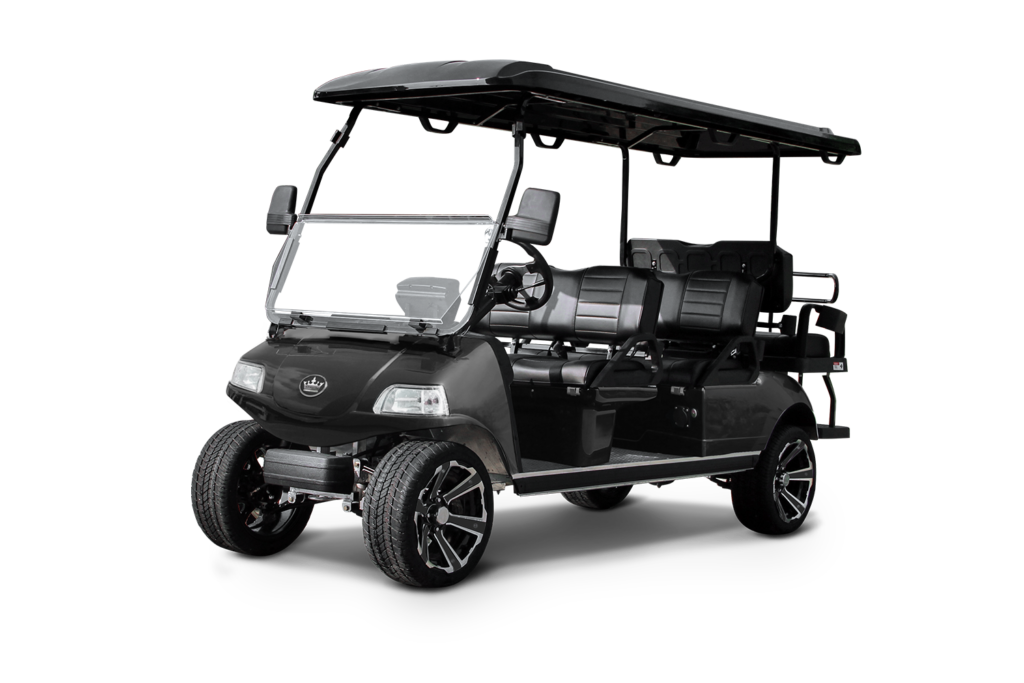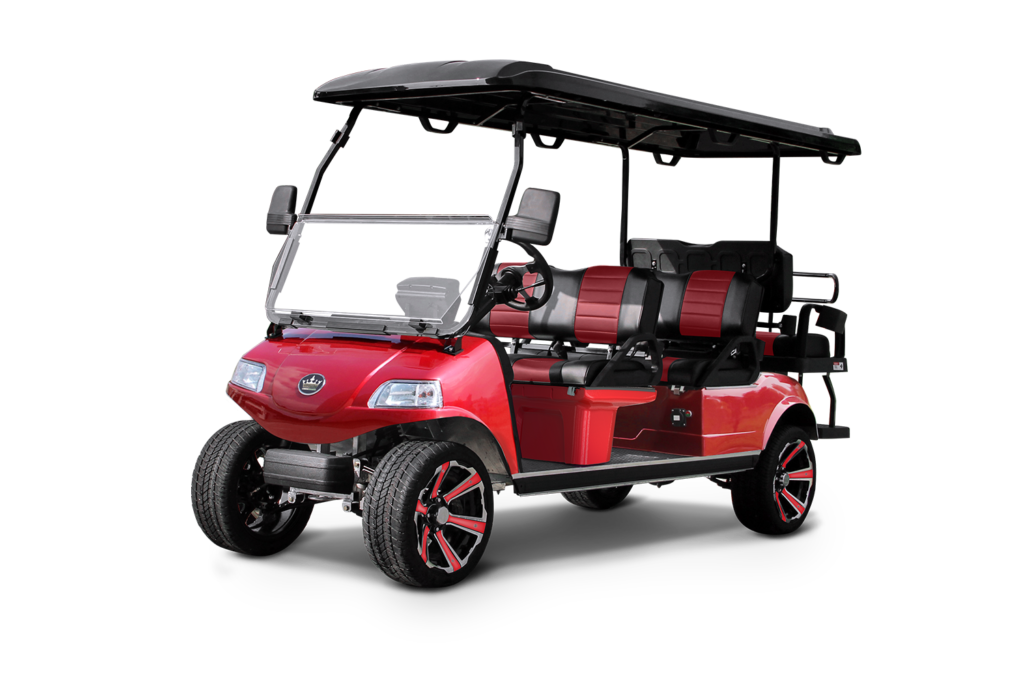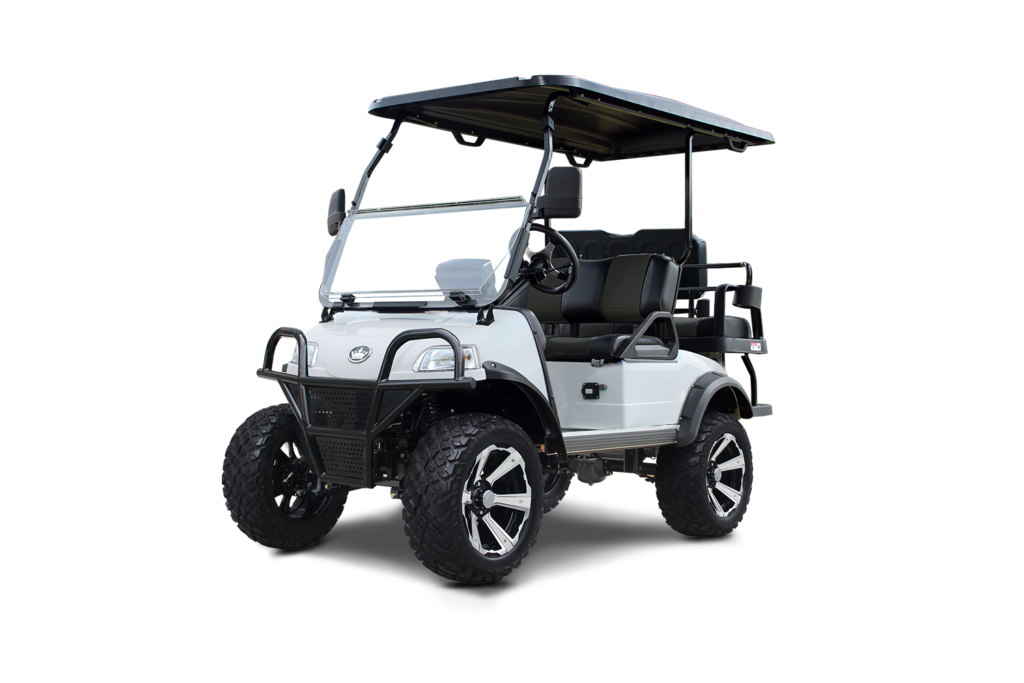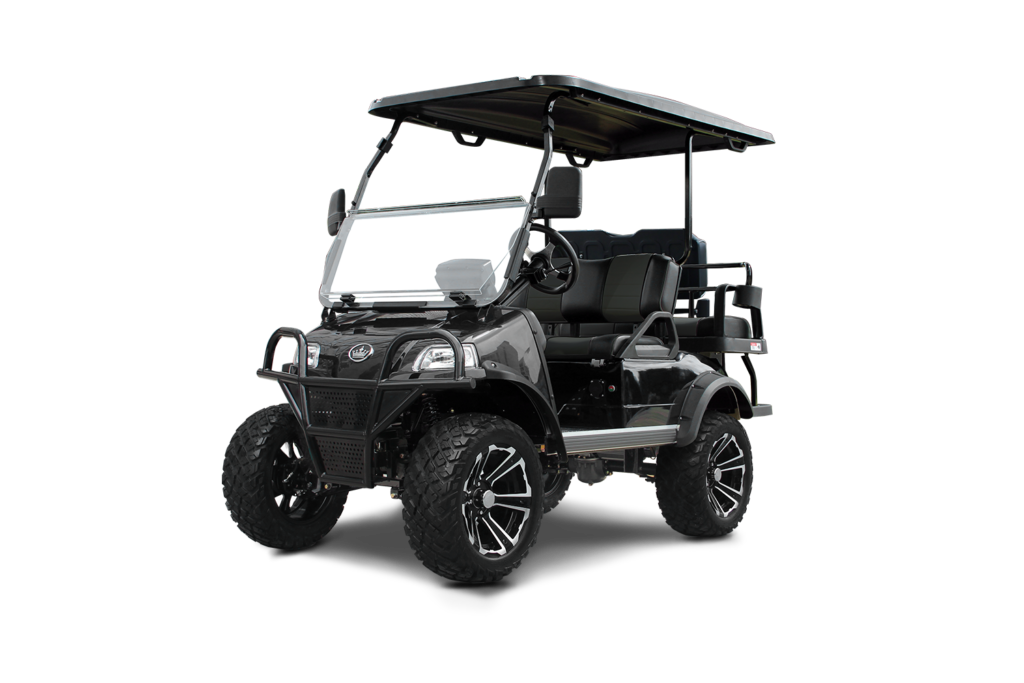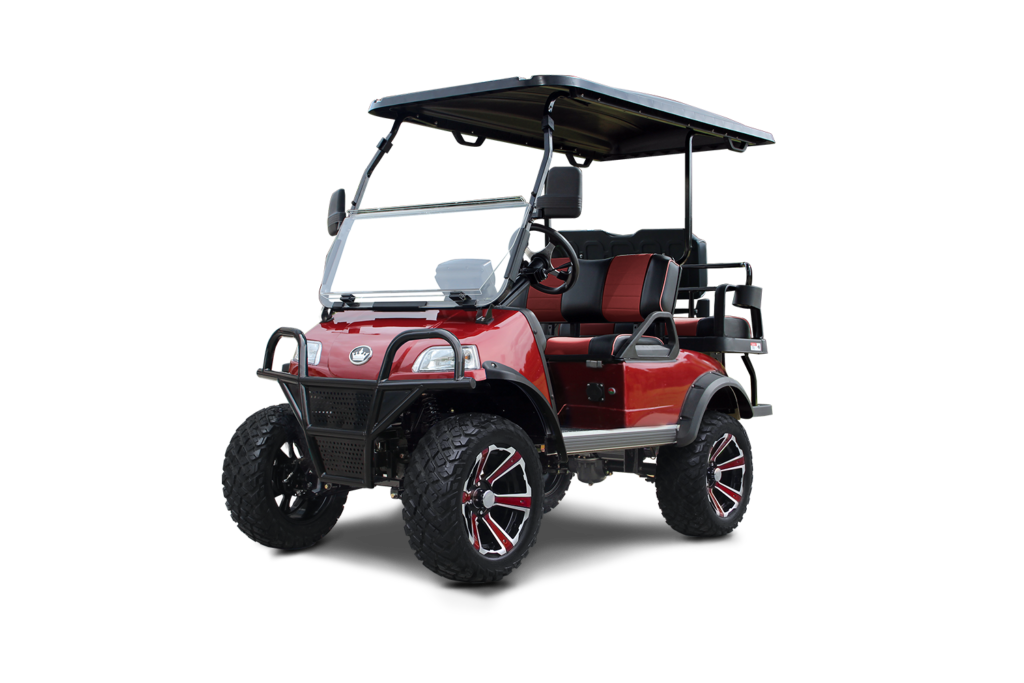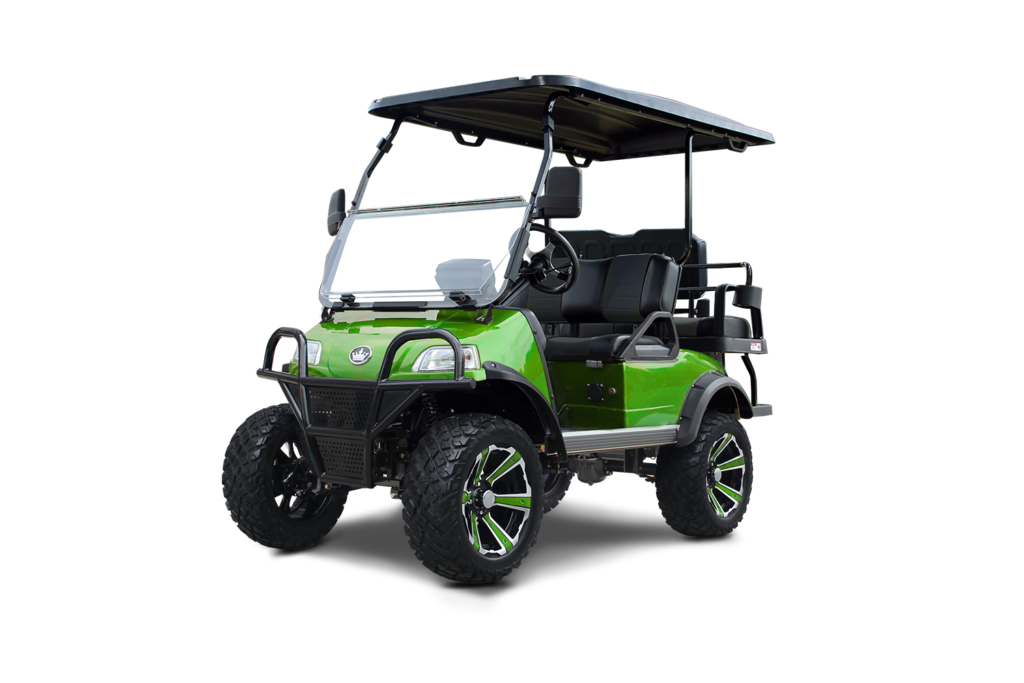 MSRP excludes shipping, delivery, taxes, registration, other options, and dealer charges and fees. Dealer sets actual price. May vary from MSRP.
*Image is for illustration purposes only.
Please ask your local dealer about available options and feautures.
Introducing the Forester 4 Plus – more than just a golf cart, it's a statement on wheels. Designed to be street-legal with a flair for hunting adventures, this Low-Speed Vehicle is equipped to tackle complex terrains. With its elevated chassis, rugged body, and off-road silent tires, it's ready for both the streets and the wild.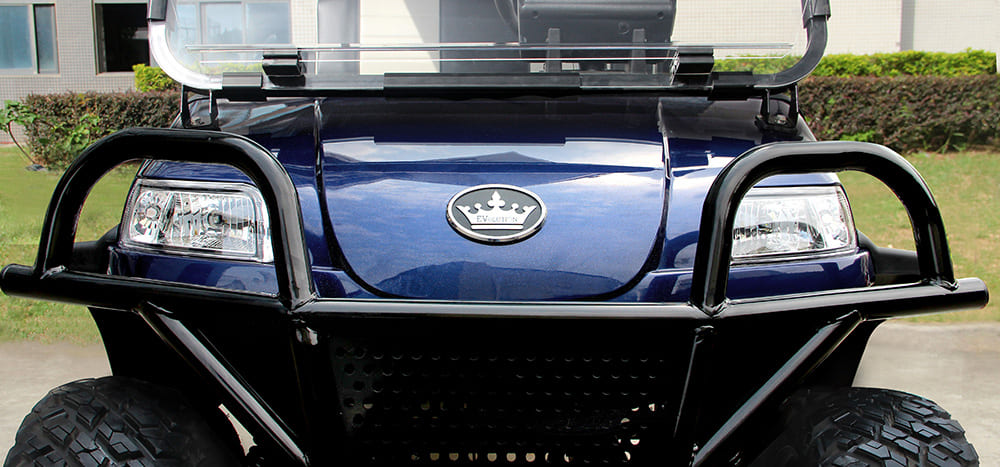 Conquer the Great Outdoors with Forester 4 Plus
Where rugged durability meets street legality. This isn't just any cart; it's a call to adventure. Designed meticulously to navigate both the asphalt of the city and the untamed terrains of the wilderness, its elevated chassis grants a bird's-eye view of your path, ensuring that no obstacle goes unnoticed. The off-road, noiseless tires not only promise a silent hunt but also effortlessly glide over challenging terrains without leaving a mark. Constructed with resilience in mind, its robust body stands testament to the promise of enduring the harshest environments while maintaining its impeccable form.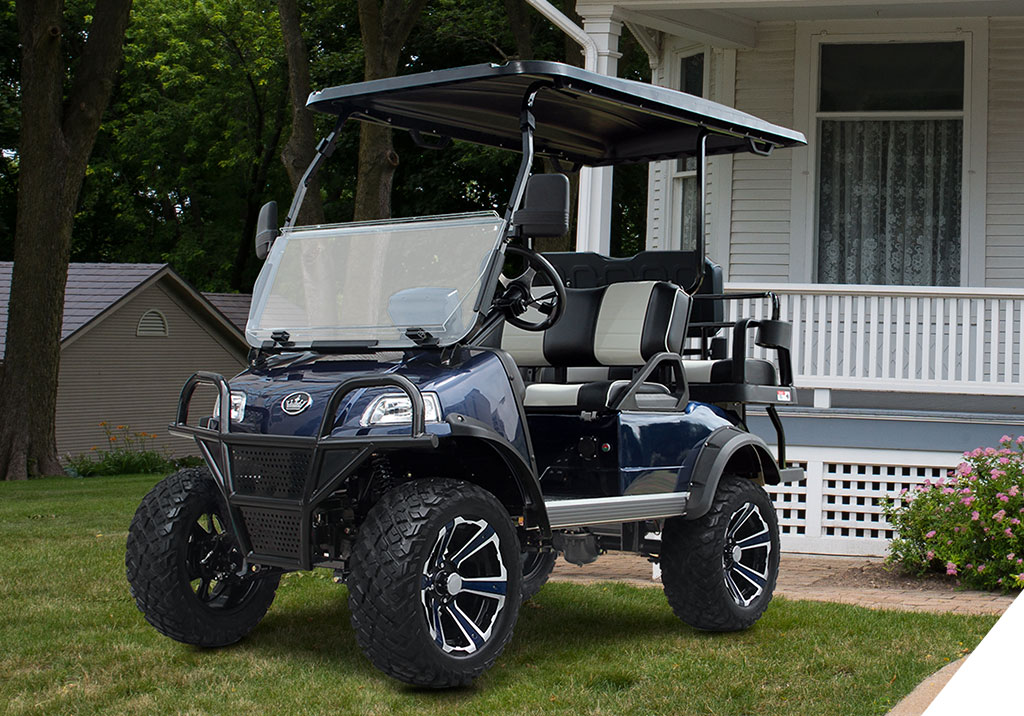 Mastering Urban and Wild Spaces Alike
Forester 4 Plus isn't limited to off-road escapades. Being a Street Legal Vehicle, it smoothly transitions from the forest trails to the lanes of your city. Whether you're exploring remote hunting grounds or simply cruising through your neighborhood, this cart ensures you do it in style, safety, and supreme comfort. Register, ride, and revel in the versatility of the Forester 4 Plus.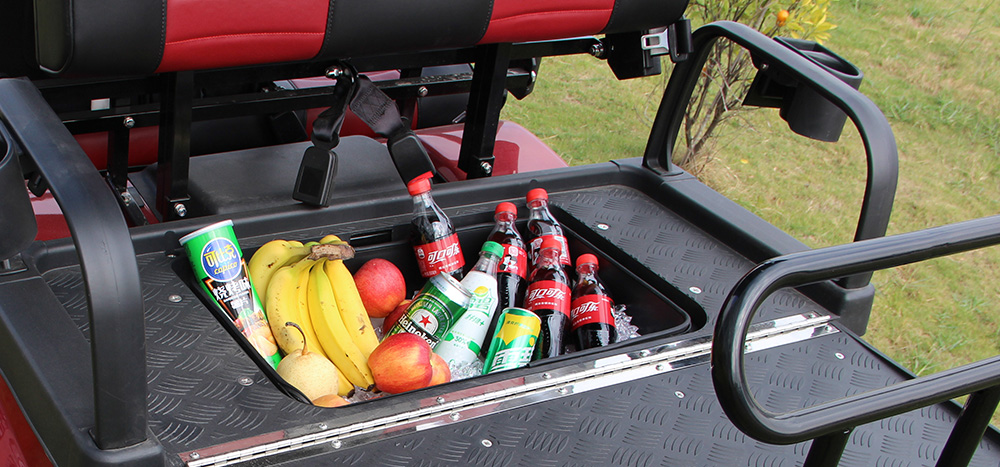 Built to face challenges head-on, Forester 4 Plus features a robust body that's as tough as it looks. Whether braving dense forests or navigating urban obstacles, this cart is engineered for longevity and maintaining its aesthetics through countless adventures.
Experience the best of both worlds. As a Low-Speed Vehicle, Forester 4 Plus seamlessly transitions from rugged trails to city roads. With the ability to register it for regular road usage, this isn't just a hunting cart—it's your everyday companion, ready to take on challenges urban and wild alike.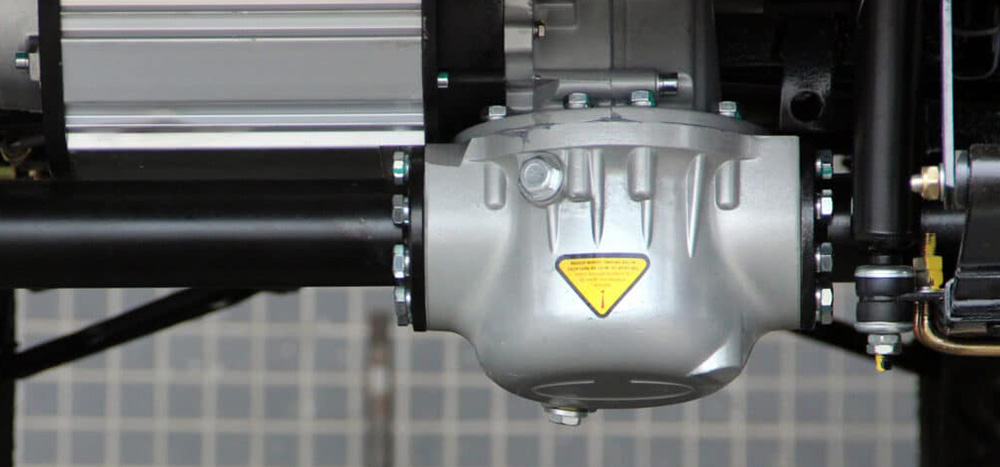 Forester 4 Plus boasts an elevated chassis, ensuring optimal visibility and maneuverability. This design not only grants an enhanced perspective on both city streets and wild trails but also guarantees that the undercarriage remains protected from potential hazards.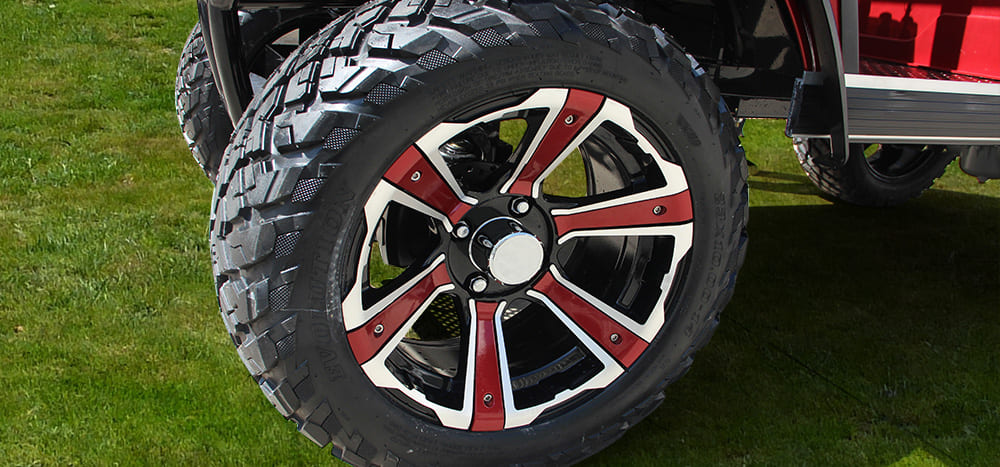 SILENT TIRES WITH OFF-ROAD THREAD
Hunt with stealth and move with grace. The specialized off-road tires are designed to be whisper-quiet, ensuring a decent driving experience. More than just their silent operation, these tires are crafted to withstand the trials of uneven terrains, offering grip and stability where it's needed most.
I love my Evolution. It's beautiful and gets me to where I want to go without any problems.
These carts last forever. Safe and sturdy with enough battery power to drive all day. The Staff were able to answer all my questions regarding a new roof replacement. Thanks Evolution Team!
Forester 4 plus: 117″x55″x83″
● 48V Lithium battery
● 48V 6.3KW AC motor
● 400 Amp Evolution AC controller
● 25mph max speed
● 25A Evolution on-board charger
● 9-inch touchscreen with Speedometer display ,back-up camera ,Stereo system ,Bluetooth connection ……
● Luxury 2 Tone Seats*
● Decorative Strip
● Colored Decorative Wheel Trim
● Dashboard with color-matching cupholder insert
● Luxury Steering Wheel
● Extended roof and flip flop rear seat kits
● Plastic rear seat kit with trunk & cup holders
● Rearview Mirror
● Horn
● USB Charging Ports
● Acid Dipped, Powder Coated Steel Chassis(Hot-Galvanized chassis optional) for a longer "cart life expectancy" with a LIFETIME Warranty!
● 25A Onboard waterproof Evolution charger, preprogrammed to Evolution lithium batteries!
● Clear foldable windshield
● Optional Golf bag holder kits
● Impact-resistant injection mold bodies
● Independent suspension with four arms
● Assembled at one of our 2 – locations in the USA for proper quality control.
● Bright lighting for the front and rear in order to maximize visibility in the dark and to alert other drivers on the road to be aware of your presence
TPO injection moulding front and rear body
● VIN number plate
● MSO document
● License Plate Light
● Reflectors
● DOT certified foldable windshield
● 4-wheel hydraulic brakes
● Seat Belts
● Max speed 25 miles per hour
NHTSA (National Highway Traffic Safety Administration) issued a mandate that requires hybrids and electric vehicles travelling at less than 18.6 mph (30 km/h) to emit warning sounds that pedestrians must be able to hear over background noises- The regulation requires full compliance in all electric vehicles, including LSVs. Because of the quietness of electric vehicles and the possibility of collision with visually or audibly impaired pedestrians, the overall objective is to facilitate proximity awareness and minimize the chance of personal injury.
In summary, an LSV (legally licensed to drive on streets up to 25 mph> must emit a sound when the forward or reverse switch is in the:
Forward position.
. From 0 MPH to 18.6 mph.
.The sound is allowed to stop once the vehicle exceeds 18.6 mph.
Reverse position.
.For complying with NHTSA rules, all LSV vehicles need to be installed with Pedestrian Alert sound generator.
EVOLUTION PRODUCT LINE - FORESTER 4 PLUS
Brochures For Evolution Carts-Click "Product Brochures" For Downloading The Brochures  For Your Cart !